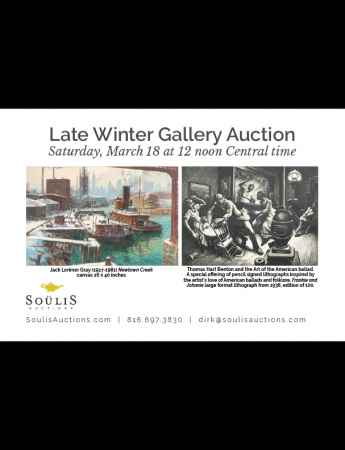 Late Winter Gallery Auction
3/1/2023 - 4/30/2023
---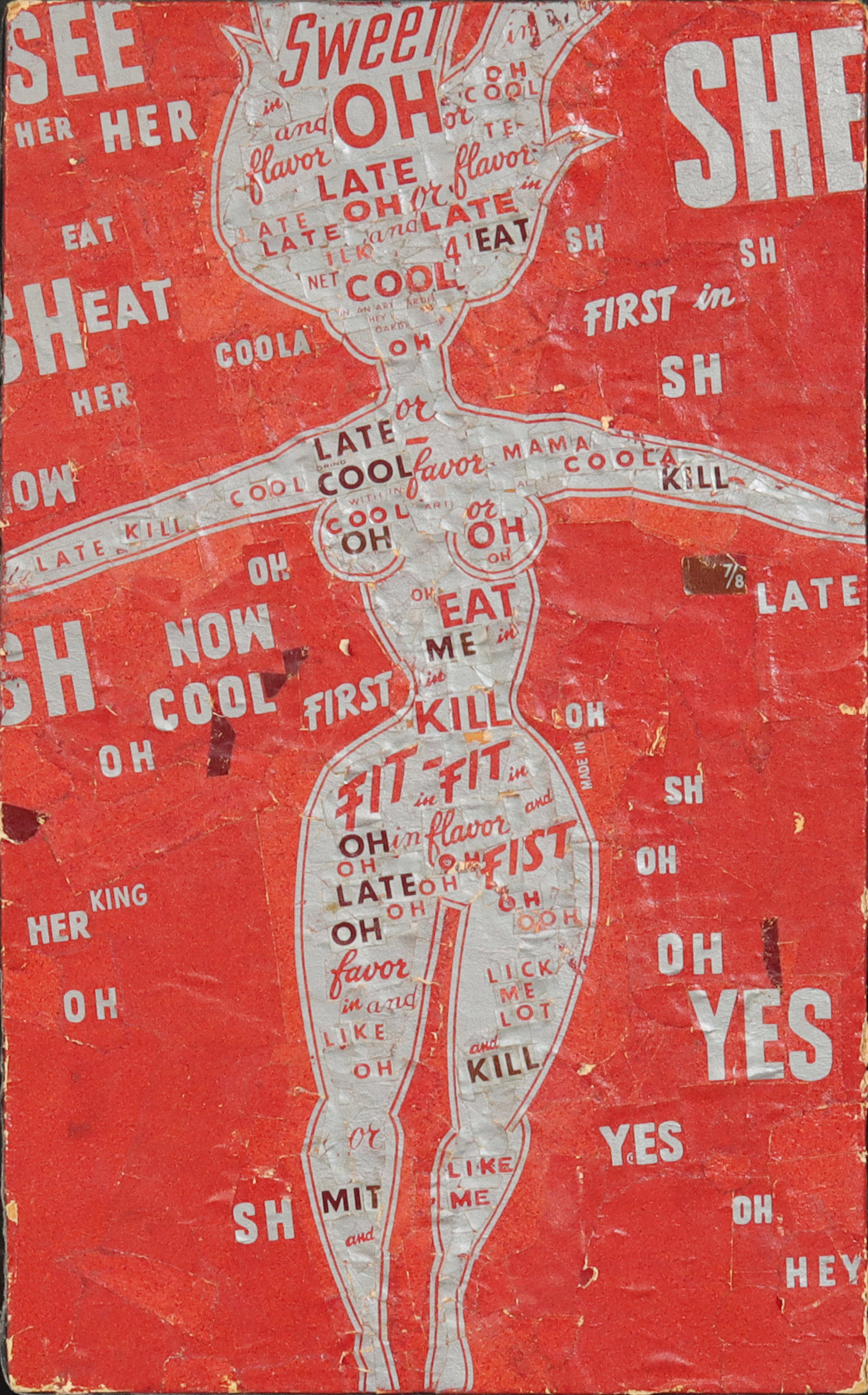 As Soon as the Guards Fell Asleep She Stripped and Ran Off Across The Lawn (October 1966)
Al Earl (Alfred) Hansen (1927-1995)
Collage on Wood Panel
16.25 x 12 inches (L x W)
Displayed in the original frame and mount made by the artist, the title and artist's signature are verso in felt tip pen: Al Hansen October 1966 New York City N.Y. Al Hansen was a fascinating talent, teacher and trailblazer. He was also very prolific in a number of artistic endeavors from performance art to collage watercolors. He participated in both one man and group shows for 30 years. Around the time this work was created, he had solo exhibitions at Eastend Gallery and Ringelhaupt Gallery in Massachusetts and Hallmark Gallery in New York.
---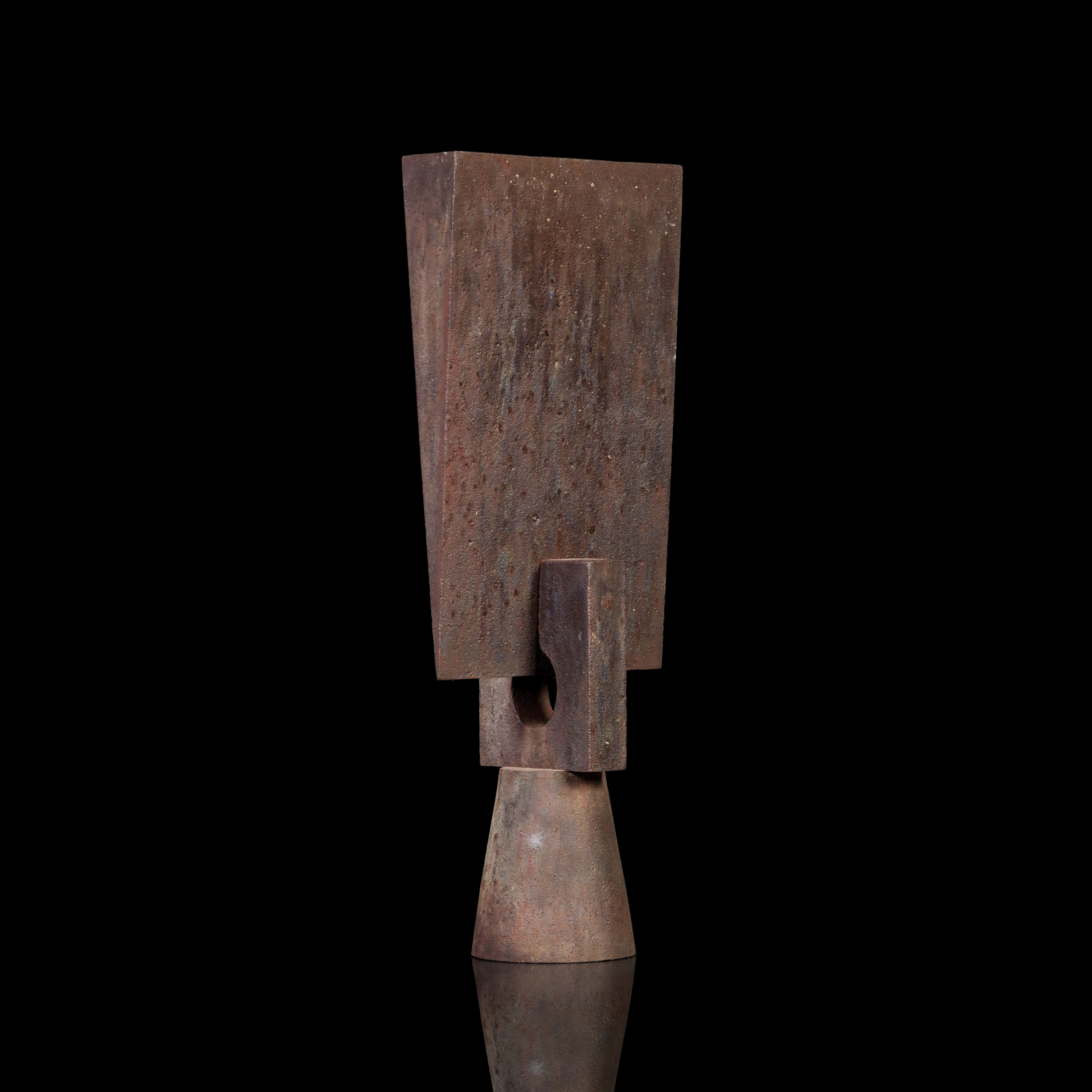 Marquette: Normanno Wedge (Circa 1980)
Beverly (Stoll) Pepper (1922-2020)
Sculpture, Cast Iron
19.5 x 7.5 x 4 inches (L x W x D)
This important cast iron maquette, small preliminary study for a monumental sculpture, was precursor to the seven-foot tall Western Washington University Campus installation of the same name. Beverly Pepper mentions casting, 'a very small, forged steel sculpture' in her verbal transcript discussing the evolution of the Normanno Wedge at WWU. Pepper relates, that this is a seminal work for her, which emphasizes verticality as well as integrating the earth and sky. ''Positioned on top of a mound, the wedge shape creates a type of urban altar.'' The artist goes on to say, 'Normanno Wedge is part of a series of sculpture based on tools and allowing their metamorphosis into something else. The embryonic state of the tool evolves into something beyond a tool. This began when I was working in foundries and factories and became involved with the beauty of the instruments I used. As a work in process, it is inevitably seductive. With each new mutation, you wonder if you're finished when you actually need to push on to a final form.' 'I used wedges in making some works to split the sculptures and create a space between -- to keep them engaged in a dialogue. Then, the wedges themselves invaded my mind. This began with the first wedge I created -- a very small, forged steel sculpture, made with a drop forge. It was initially difficult because I felt I needed to do the forging myself, though I was not physically capable of manipulating the forge and maneuvering huge weights of steel. At that point, I decided to shift to casting since it would free me to work directly in iron. The originals could be made out of more malleable material.' She continues, '…I call WWU's sculpture Normanno because the man who owned its foundry in Terni (Italy) was named Normanno. Still, it took a lot of persuasion to convince Signor Normano Bernadini to cast that wedge. Eventually, we became great friends and did a lot of work together. Other foundries followed -- my cast iron sculptures made in an industrial foundry, not an art foundry. Industrial casts are coarser and relate more to the concept of the tool.' This rare and important 19-inch tall preliminary study is not signed. It comes from a private Kansas collection, obtained form the Moline Illinois estate of a John Deere Company executive.
---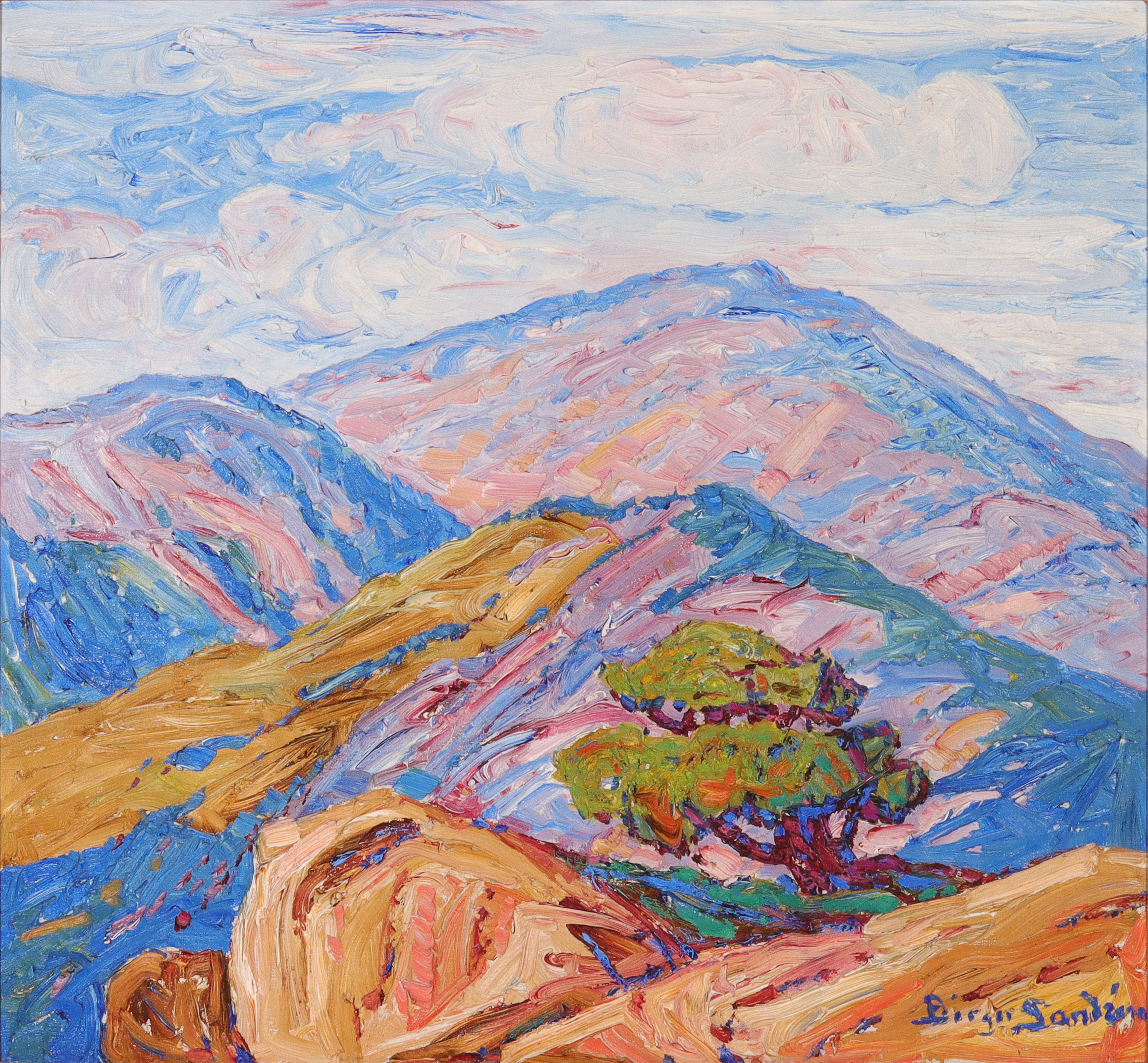 Mountains and Red Rocks (1920)
Birger Sandzen (1871-1954)
Oil on Canvas
28 x 30 inches (L x W)
The large oil on canvas Rocky Mountain view at tree line is signed lower right front and painted in a unique palette of clean, attractive colors applied in the near-sculptural technique typical of Birger Sandzen's earlier works, though it dates to what scholars refer to as his Middle Period. The following is from the Birger Sandzén Memorial Gallery web site: Middle Years (1910-1929). This period is often considered the most dynamic and important of Sandzén's career. Kansas and Colorado landscapes came to the forefront during this time and his importance and recognition as a painter increased. In a letter from March 20, 1912 Sandzén wrote to his brother Gustaf: 'My paintings have, to tell the truth, aroused a great deal of attention. They are not, however, if one reads the reviews 'sensational' - even if the color usage is a little individual. They are simply nature studies. I adhere strictly to nature, but strive for the simplest possible means of expression.' Birger Sandzén to Gustaf Sandzén, 20 Mar 1912, Sandzén Archives, Birger Sandzén Memorial Gallery, Lindsborg, KS.
---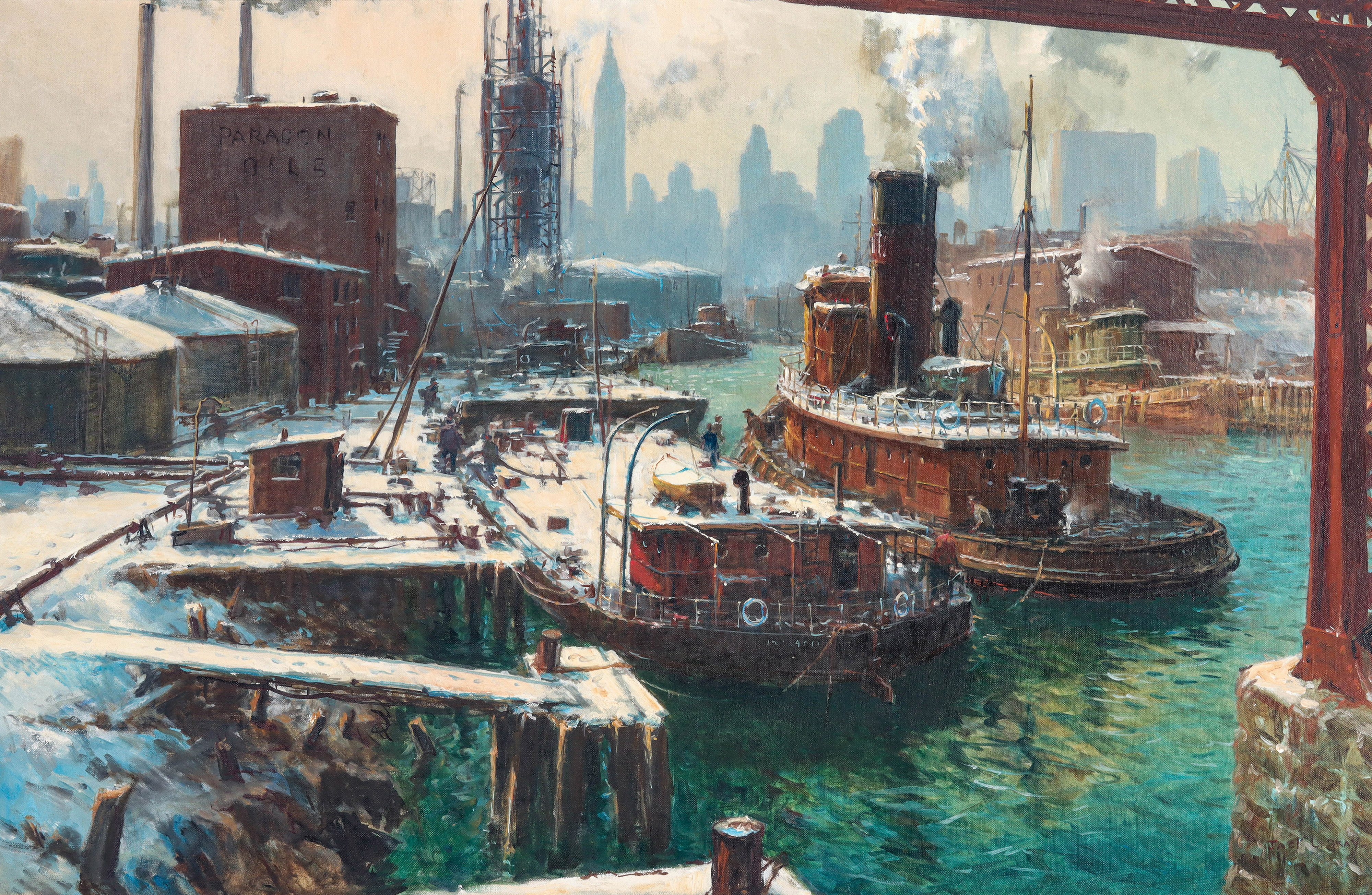 Newtown Creek (Third quarter of the 20th century.)
Jack Lorimer Gray (1927-1981)
Oil on Canvas
34.25 x 48.25 inches (L x W)
The oil on canvas signed by Jack L. Gray lower right front is titled Newtown Creek verso along the top stretcher. Newtown Creek is a tributary of the East River running between Brooklyn and Queens, the New York City skyline rises behind the barges, ships and industry depicted in the thorough and accurate detail that Jack Lorimer Gray's trademark.
---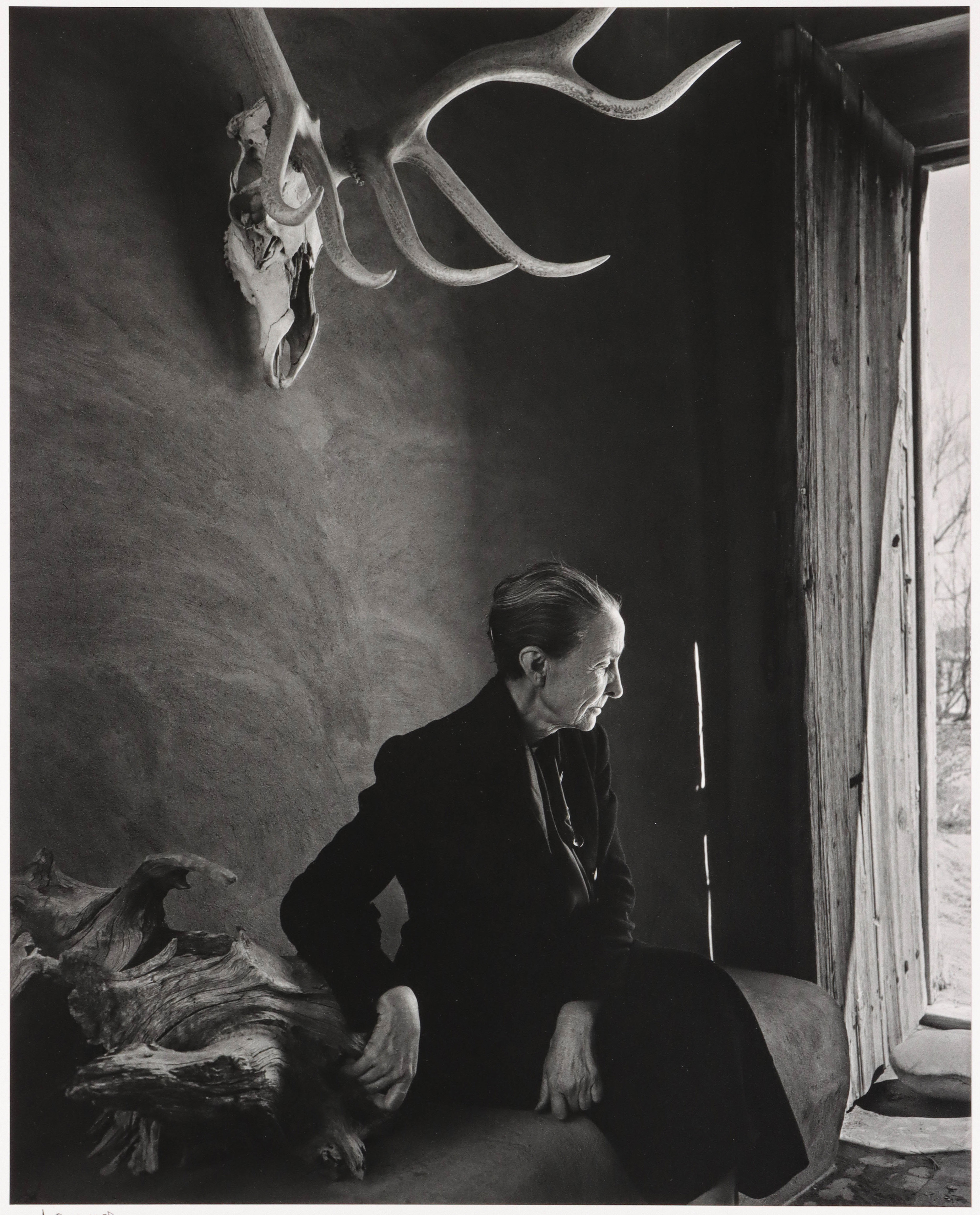 Photograph of Georgia O'Keefe
Yousuf Karsh (1908-2002)
Photography
29.25 x 23.25 inches (L x W)
---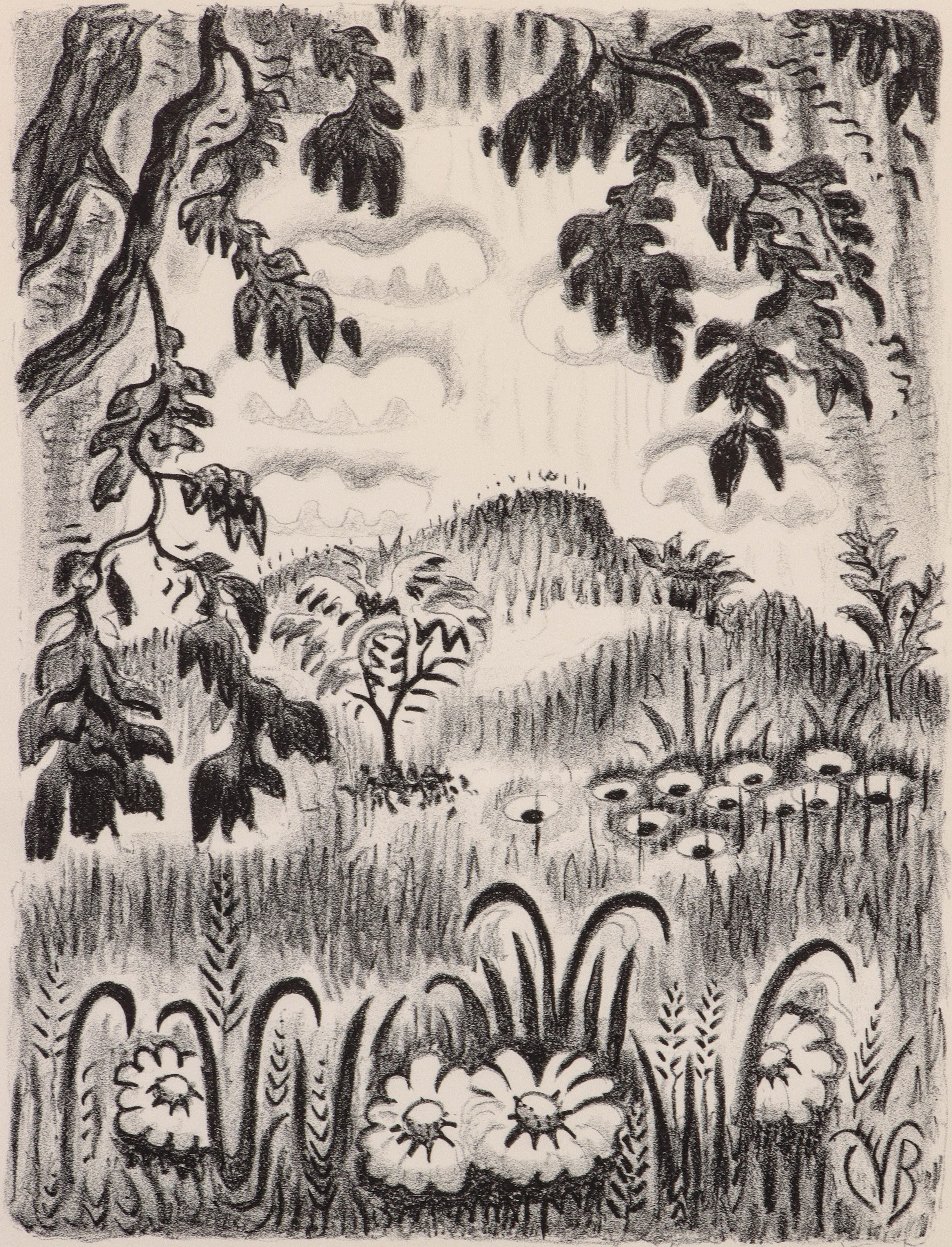 Summer Benediction (1953)
Charles Ephraim Burchfield (1893-1967)
Pencil-Signed Lithograph
16 x 11.5 inches (L x W)
The lithograph published by The Print Club of Cleveland Ohio in an edition of 250, plus 10 is signed by the artist in pencil below the image lower right, Club print number 31, the original Print Club label is found verso.
---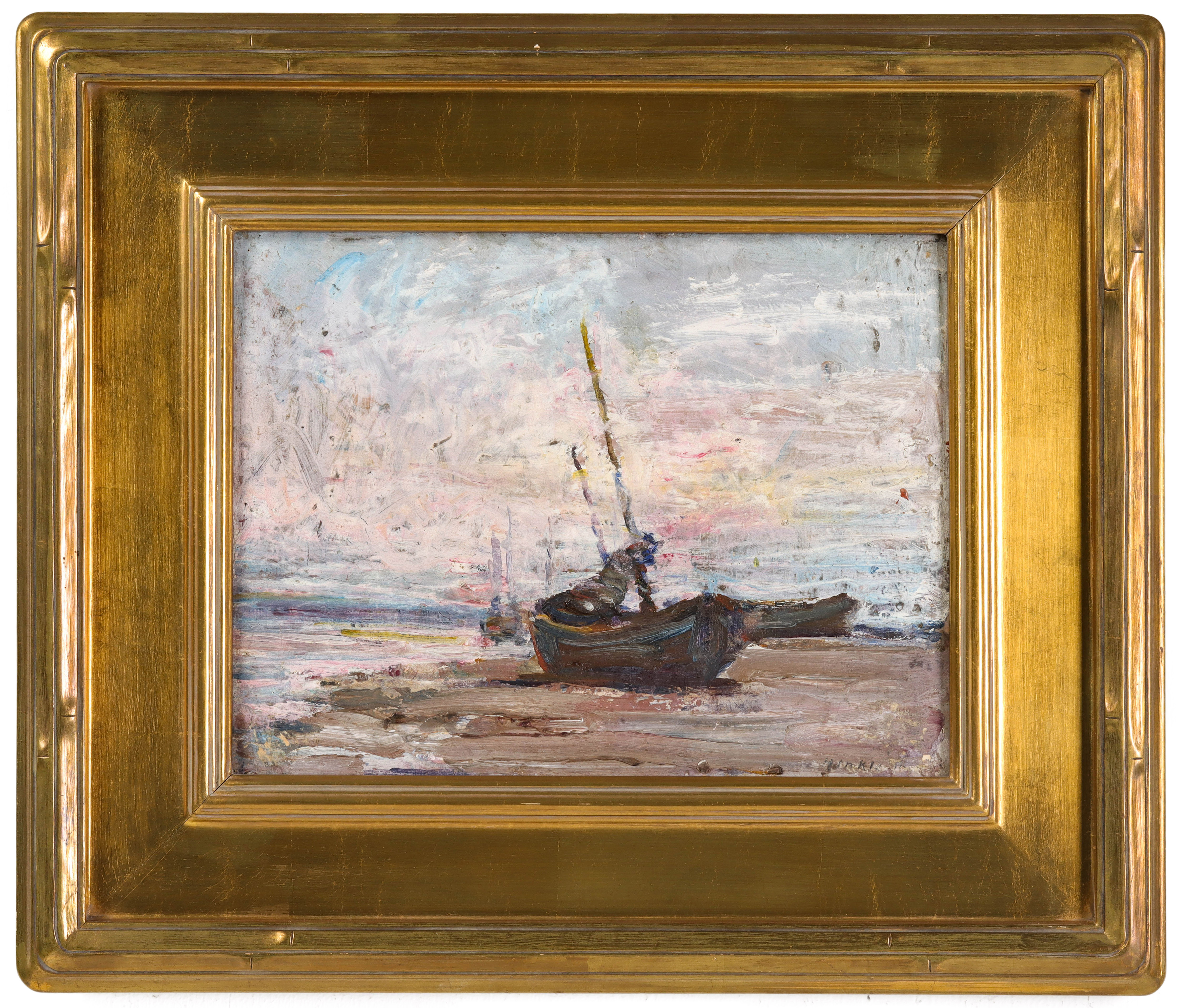 Sunset Etaples (1920)
Clarence Keiser Hinkle (1880-1960)
Oil on Panel
18.5 x 21.5 inches (L x W)
Clarence Hinkle was born and raised in California and studied art there as well as in the east with American impressionists John Twachtman and William Merritt Chase before receiving a a Cresson Traveling Scholarship that took him to France before 1913. This view of ships at low tide in Etaples, France is displayed in its fine, original carved and gilded American Impressionist frame, the artist's signature is lower right front as well as on the reverse where various interesting tags and written notations are found.
---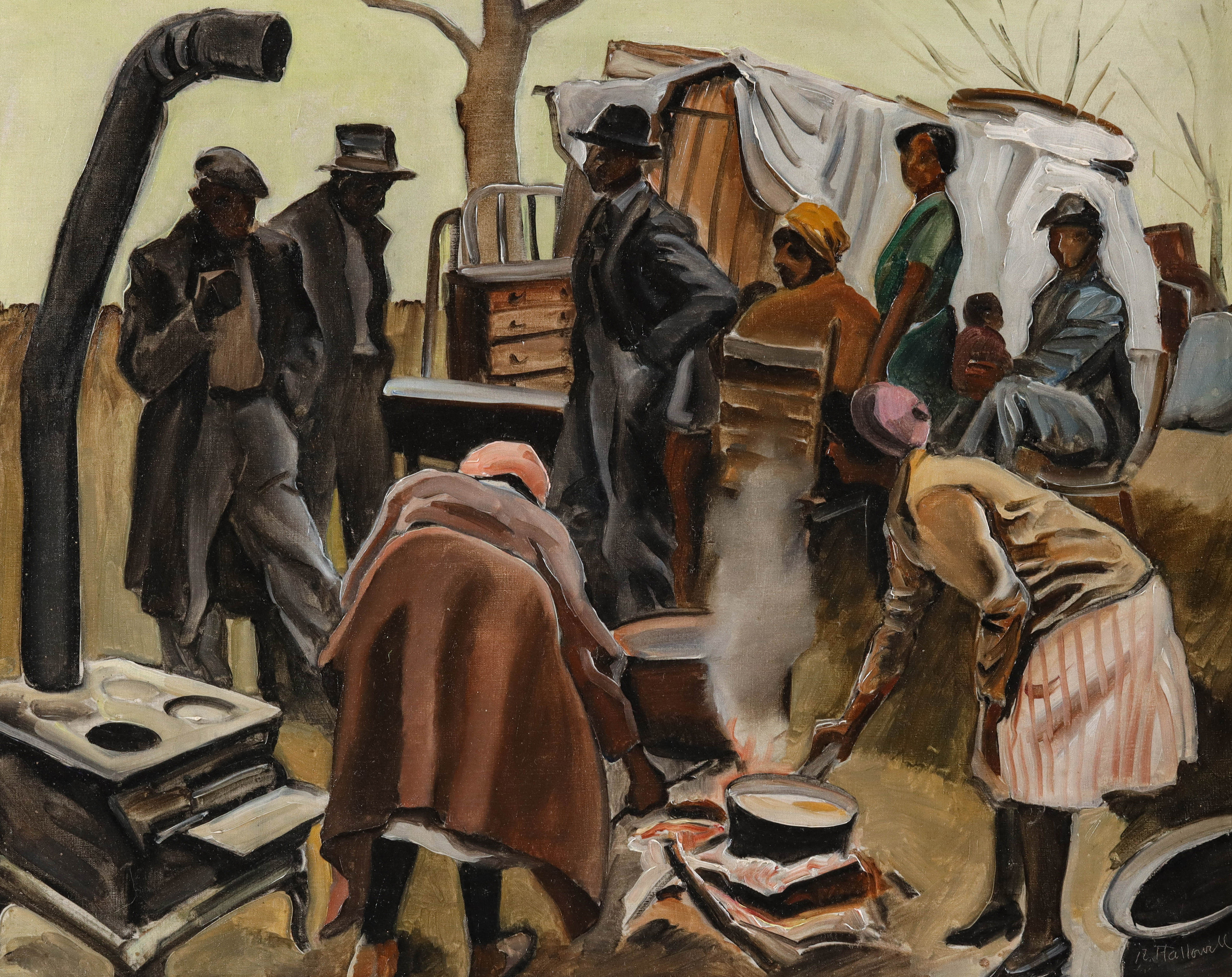 Untitled Hooverville Camp Scene (Circa 1935)
Robert Hallowell (1886-1939)
Oil on Canvas
21.5 x 25.5 inches (L x W)
The best painting by Robert Hallowell to be offered at auction, this undated work of social commentary depicts African Americans in make-do conditions of Depression-era America. Hallowell and his wife Aurelia Caloenesco were employed by the WPA Federal Art Project for which he served as assistant director. Both exhibited widely before the Depression. Robert saw success as an illustrator and with sales of paintings to the public. He studied at Harvard University and in 1914 co-founded The New Republic, a magazine focused on The Arts and Politics, still today. The majority of works by Robert Hallowell offered at auction are watercolor views of Cuba, Town Views or Still Life compositions of less importance than this nicely framed social realism genre scene.
---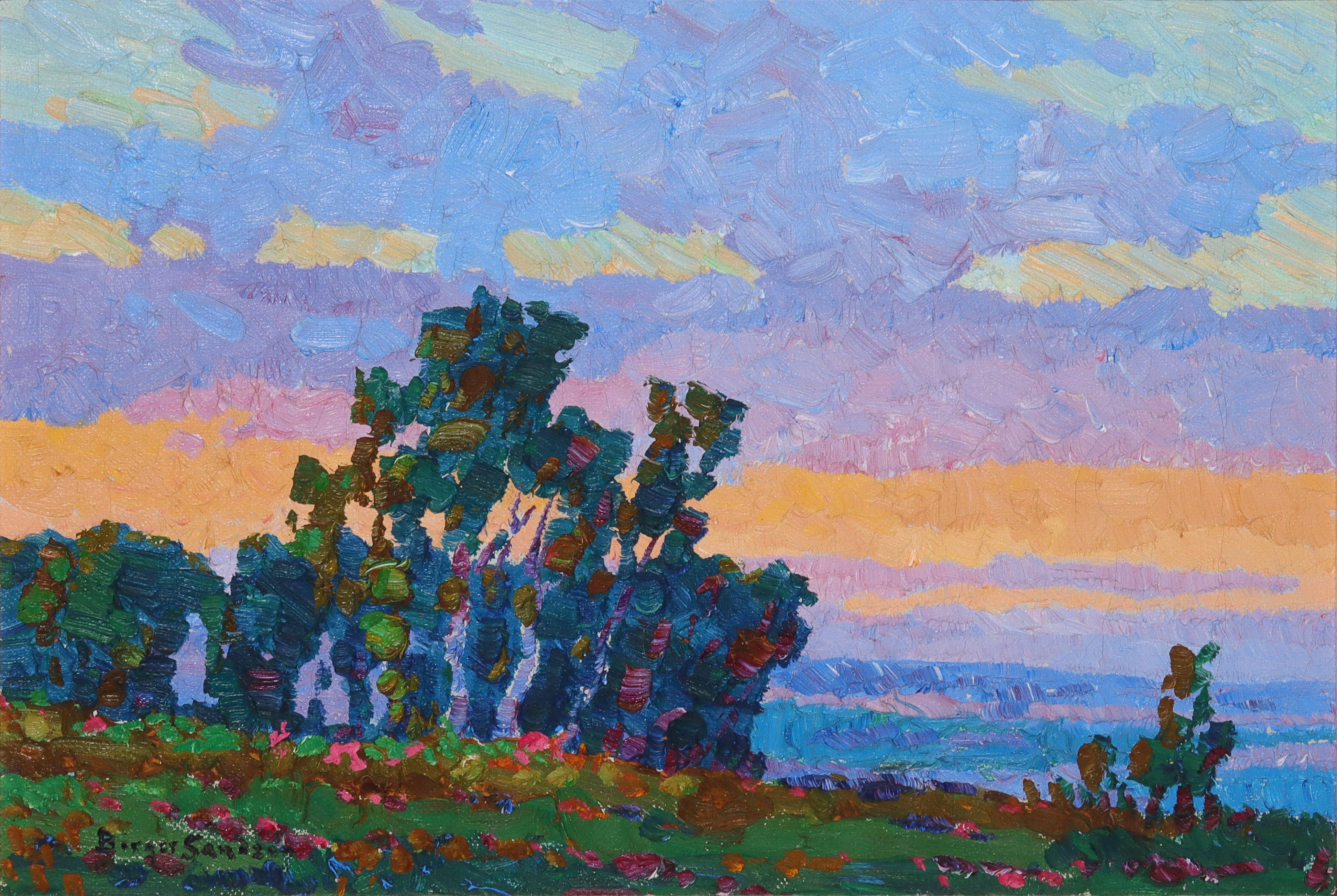 Untitled view at Sunset (Circa 1920)
Birger Sandzen (1871-1954)
Oil on Canvas
18.5 x 24.25 inches (L x W)
The oil on canvas in a palette of the intense colors most associated with Sandzen's early work is signed lower left.
---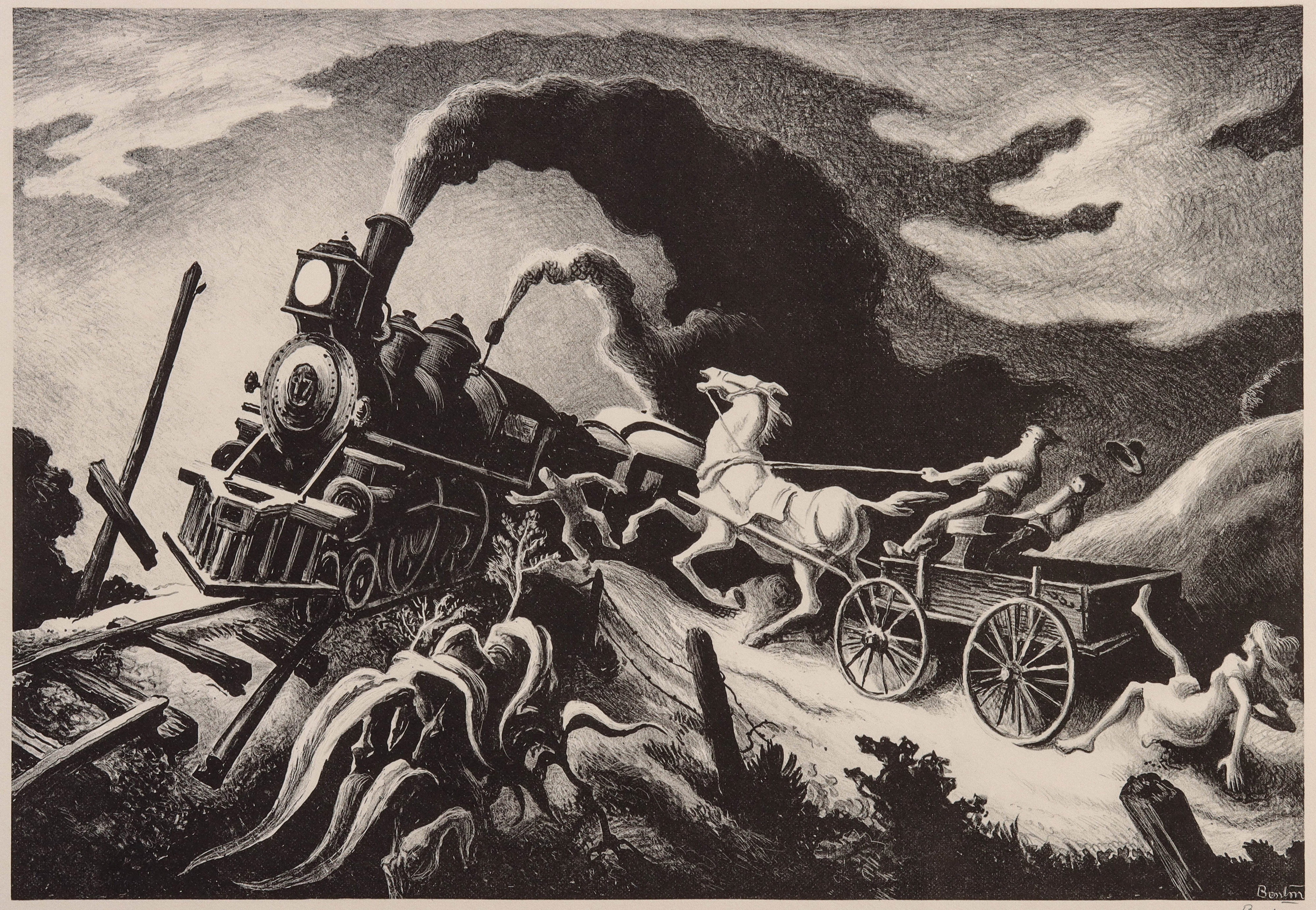 Wreck of the Ol' 97 (1944), One of Fifteen Benton Prints on Offer
Thomas Hart Benton (1889-1975)
Pencil-Signed Lithograph
18.75 x 23.5 inches (L x W)
The lithograph published by Associated American Artists in an edition of 250 prints is signed by the artist in pencil below the image lower right and listed as Fath catalog number 63. A nice, dark strong impression on sheet with watermark as shown. Benton's comments in Fath read: 'Famous folk song in the '20s. Not a true folk song, but one of the synthetics of the time based on an old folk tune. Drawing made in winter of 1926-27. Lithograph made in early 40s. Painting of this subject was purchased by Sears Roebuck Co and a print of it was circulated by the firm during the 40s and early 50s. Don't know where the painting is now.'