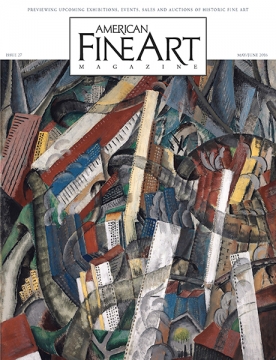 Features
42
Looming Presence
By Jay Cantor
50
In the Service of Beauty
William Merritt Chase: a Retrospective, at the Phillips Collection by James D. Balestrieri
58
Broad & Inclusive
North Carolina collector's home reflects his developed eye for art by John O'Hearn
67
Upcoming Gallery Shows
Previews of upcoming shows of historic American art at galleries across the country.
97
Upcoming Events & Fairs
Preview and reports of all the major art fairs and events taking place across the country.
105
Upcoming Museum Exhibitions
Insights from top curators about the major exhibitions of historic American art being organized at key American museums.
115
Upcoming Auctions
Major works coming up for sale at the most important auction houses dealing in historic American art.
---