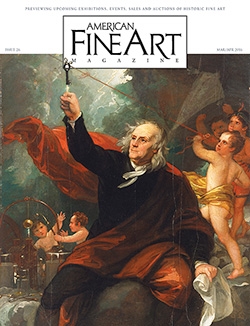 Features
44
Craft for Craft's Sake
By Jay E. Cantor
52
Patriots & Expatriates
Creating an American Art in the Colonies by James D. Balestrieri
60
No Boundaries
Laurie Ghielmetti's art-filled home reflects past, present, future by John O'Hearn
67
Upcoming Gallery Shows
Previews of upcoming shows of historic American art at galleries across the country.
83
Upcoming Events & Fairs
Previews and reports of all the major art fairs and events taking place across the country.
95
Upcoming Museum Exhibitions
Insights from top curators about the major exhibitions of historic American art being organized at key American museums.
---