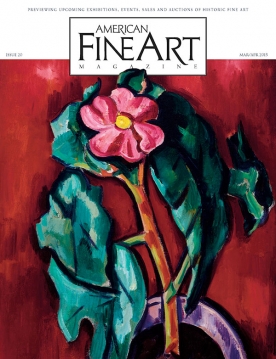 Features
40
A Trail of Two Cities
A closer look at two upstate New York museums by Jay E. Cantor
48
Good Vibrations
Charles E. Burchfield: A Resounding Roar at the Burchfield Penney Art Center by James D. Balestrieri
56
Collecting What You Like - And Loving It
A Pennsylvania collector shares the history behind his collections by John O'Hearn
63
Upcoming Gallery Shows
Previews of upcoming shows of historic American art at galleries across the country.
93
Upcoming Events & Fairs
Previews and reports of all the major art fairs and events taking place across the country.
103
Upcoming Museum Exhibitions
Insights from top curators about the major exhibitions of historic American art being organized at key American museums.
115
Upcoming Auctions
Major works coming up for sale at the most important auction houses dealing in historic American art.
---