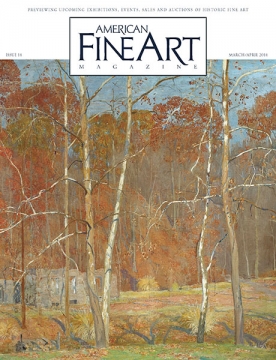 Features
48
The Artist at Home and at Work
56
Winter Light
The Hyde Collection in Glens Falls, New York, showcases a selection of winter scenes from Thomas Clark's impressive American impressionists collection.
64
Following One's Passion
Richard Rossello started Avery Galleries in 2001 in Bryn Mawr, Pennsylvania, along the area's famed Main Line.
67
Upcoming Gallery Shows
Previews of shows of historic American art at galleries across the country.
85
Upcoming Events & Fairs
Previews and reports of all the major art fairs and events taking place across the country.
101
Upcoming Museum Exhibitions
Insights from top curators about the major exhibitions of historic American art being organized at key American museums.
113
Upcoming Auctions
Previews and reports of major sales at the most important auction houses dealing in historic American art.
---